Instramed offers three products for emergency care, each focused on a specific application: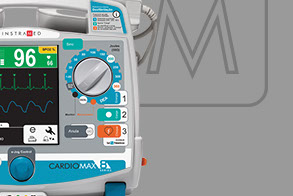 Cardioversor Monitor Biphasic Defibrillator
APPLICATION
The CardioMax is an advanced, complete and configurable cardioverter/defibrillator that also offers the convenience of the function for monitoring vital parameters. In addition to hospital and clinical application, it is indicated for use in ambulances.
Automated External Defibrillator (AED)
APPLICATION
The Isis is the most intuitive and easy to use AED equipment on the market: just turn on a single button and follow the voice instructions and visual indicators on the LCD screen. This is why it can be used by rescuers with basic training or even in homes.
Automated External Defibrillator (AED) with Manual Mode
APPLICATION
The Isis PRO is a professional AED with an ECG display and a manual function through the touch screen. It is as easy to use as the Isis, however it is indicated for experienced health providers due to allowing for the customization of the treatment application parameters.